Posted by Bavarian Clockworks on 21st Jun 2016
There are a lot of things about the art of cuckoo clock making that haven't changed for centuries. In fact, in order to be considered an authentic Black Forest cuckoo clock, the clock has to be made using the same mechanics, components and construction as clockmakers from the early 1700s.
But that doesn't mean nothing ever changes. Since 1894, Rombach & Haas has made clocks featuring the iconic characteristics of original Black Forest cuckoo clocks: finely carved details, hand-painted figurines and active animations, including wood choppers and beer drinkers.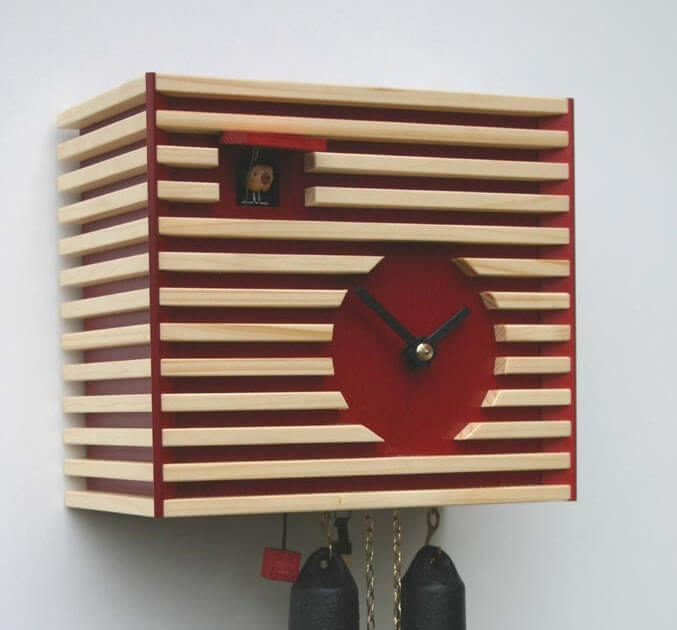 In the late 2000s, Rombach & Haas released their famed Romba Art collection, a line of cuckoo clocks that featured geometric shapes and simplistic designs. Known as Romba cuckoo clocks, these clocks adopted the minimalist aesthetic of modern designs and marked a pivotal change to cuckoo clock styles. Combining contemporary designs with traditional Black Forest techniques, Romba cuckoo clocks have steadily gained popularity over the years.
The Modern Cuckoo Clock
The modern cuckoo clock movement began in the workshop of Connie Haas, a clock designer and painter for Rombach & Haas cuckoo clocks. (Her husband, Ingolf Haas, is the technical and constructional arm of the operation.) Rombach & Haas makes some of the most authentic cuckoo clocks on the market, but Connie Haas wanted to make a cuckoo clock for customers with more modern tastes.
"The style of living has changed, and a usual cuckoo clock, decorated with wooden carvings, does not fit into every living space," Ingolf Haas said when the Roomba Art collection was released. "Therefore, we have created a new generation of this timepiece after 160 years of consistency. Inside the industry, this new line has been named a small revolution."
Launched in 2008, the Romba cuckoo clocks follow the clock making traditions of bygone eras while incorporating the latest contemporary design trends.
The Romba Art Collection
When Connie Haas first started making modern cuckoo clocks, she began with only one style. Today, Rombach & Haas offers more than 100 different models of the Romba cuckoo clock. Some of the more popular styles in the series include:
Cuckoo Pyramids: These Romba art clocks, made with quartz movements, are made to sit on a table as opposed to hang on a wall. Made of fine wood and beautiful colors, the pyramid-shaped clock is a modern decorative piece that plays music every hour.
Classic Cuboid: These plain-colored, cuboid-shaped clocks are incredibly minimalist and make for stunning wall decoration. The geometrical shape of the clock is repeated in the pendulum as well as in the night shut-off button. Made with a mechanical clock movement, this modern cuckoo clock has a one-day clockwork.
Cuckoo's Home: This series modernizes the traditional chalet clock into a modern-day birdhouse. The clock features an eight-day movement and makes sound every half hour. The oblong design, which comes in wood and now stainless steel, looks elegant on any wall.
Other styles in the Romba art collection include Bamboo Clock, Classic Cube, Diamond Clocks, Time & Space, Modern Traditional, Free Bird, and Ornamental. Most of the modern art cuckoo clocks are still designed by Connie Haas.
All modern cuckoo clocks, no matter how sleek their lines or minimal their design, pay homage to the traditional Black Forest Germany cuckoo clock. Most Romba cuckoo clocks have the traditional mechanical clock movement; however, some do have quartz movements, which runs with batteries. Romba cuckoo clocks are designed with a music box, and many modern cuckoo clocks still have moving figurines, such as dancers and beer drinkers. Although more modern, a Romba cuckoo clock's call is still made from the working mechanics of the clock itself, not electronics.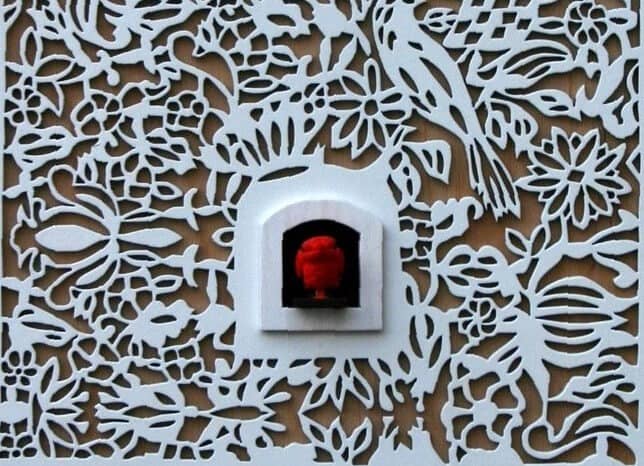 For customers looking for a modern cuckoo clock that is made using the centuries-old Black Forest Germany clock making tradition, a Romba cuckoo clock is sure to make a statement. If you're not sure if the modern style if right for you, we offer many different styles of coo coo clocks all handmade in Germany.