Posted by Bavarian Clockworks on 12th Oct 2021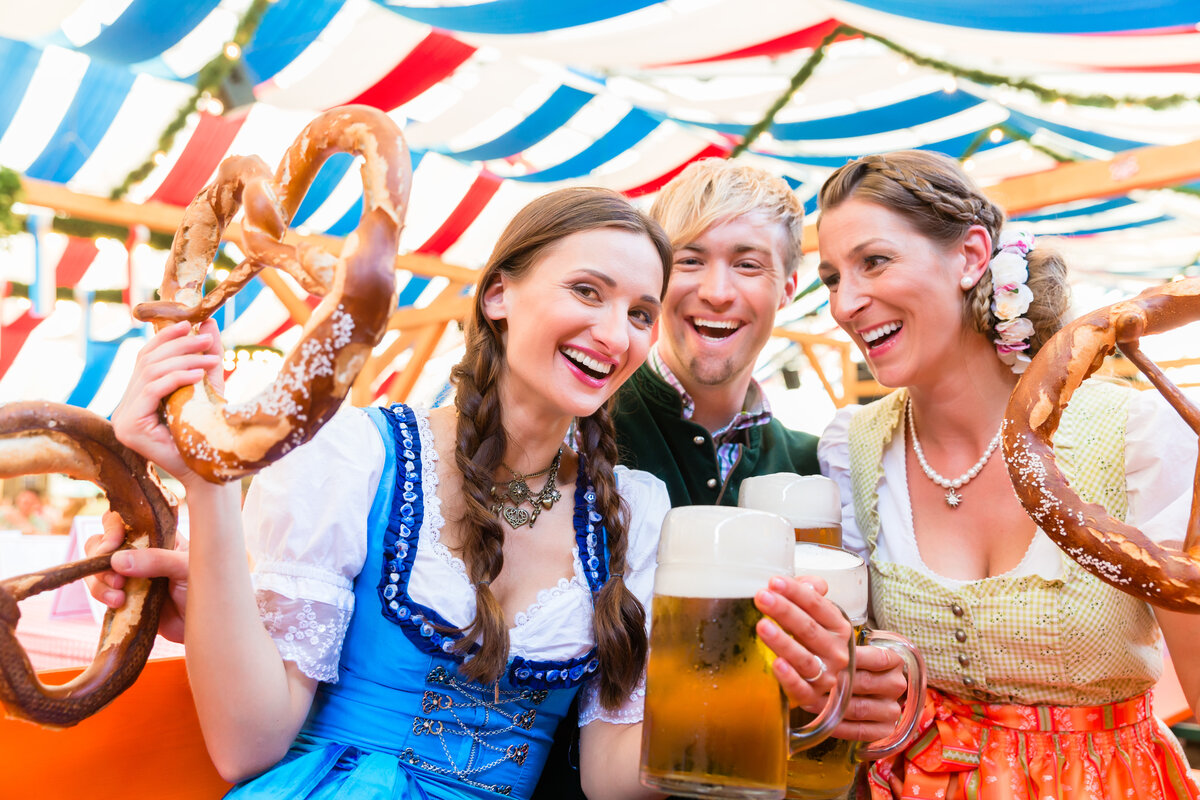 Oktoberfest: Celebrating Clockmakers of the Black Forest
October is the most exciting month for Bavarian Clockworks because we can't help but break out the beer steins, put on a polka, and engage in the lively merriment of our German heritage for Oktoberfest. Even if you've never been to Germany or don't have a German bone in your body, odds are very good that you've heard of Oktoberfest. But did you know the close connection between Oktoberfest and Black Forest Cuckoo Clocks?
What is Oktoberfest?
When people think of Oktoberfest, they think of one thing first: beer. And this makes sense, because Oktoberfest is the world's largest Volksfest, otherwise known as a beer festival. When most people think of Oktoberfest, they imagine crammed people on long wooden tables drinking enormous quantities of beer in huge steins.
Even though that may be true, it also consists of a mix of celebrations including German traditions, food, and beer. Oktoberfest is actually a festival that has run for more than 200 years, originating in Bavaria and lasting between 16 to 18 days. And yes, huge amounts of beer are served at Oktoberfest. In 2013, it was estimated that in Munich, Bavaria, Oktoberfest (the official Oktoberfest) served more than 7.7 million liters of beer, or 1.7 million gallons.
But it's not just beer that entices people to an Oktoberfest;: There's also parades, bands (both traditional and modern), amusement park rides, and games. There are also more than two dozen massive tents that deliver different experiences--many serving food (from roast ox to fish) and others including crossbow competitions, celebrity encounters, wine tasting, tributes to the 30 years war, and more.
Oktoberfest is many things to many people, but it is quintessentially German. So there's no surprise that Oktoberfest has worked its way so thoroughly into Black Forest cuckoo clocks.
What is the Black Forest?
The Black Forest is a large wooded region in the southwest of Germany, in the state of Baden-Wurttemberg. Although it was historically used for its timber and mineral resources, now the Black Forest thrives on tourism due to its iconic tableaus of the "perfect" picturesque view of the Germany country.
The food of the Black Forest is legendary and has spread worldwide. You can get Black Forest ham in every grocery store and Black Forest Cake--a chocolate cake with cream, sour cherries, and Kirsch (a cherry brandy)--in most bakeries.
Wood carving has long been one of the handiworks of the Black Forest, historically creating crucifixes and the Longinus cross. In the last two hundred years they have turned to making ornaments and artworks and, you guessed it, Black Forest cuckoo clocks.
What Are Black Forest Cuckoo Clocks?
The presence of Oktoberfest on Black Forest cuckoo clocks is apparent after any glance through the wide selection. Of the clocks that depict scenes, almost all of them will have people at a table drinking--sometimes moving when the cuckoo sounds and music plays. The people are often being served large steins of beer by the same iconic serving maids at modern and historical Oktoberfests.
More than that, there is often a band playing in a Black Forest cuckoo clock house scene, where the instruments reflect the Oom-Pah bands of the beer festival, including the tuba, the accordion, the guitar, and more. And dancers will quite often spin and turn up in the attic of the chalet cuckoo clock, just like the dancers at a traditional Oktoberfest.
At Bavarian Clockworks, our Black Forest cuckoo clocks, with amusing Oktoberfest imagery, are all handmade by wood workers and craftsmen, and hand painted by the best artists in all of the Black Forest. They come with a certificate of authenticity indicating that they are, indeed, true Black Forest Oktoberfest cuckoo clocks.
One of our famed cuckoo clocks is the Oktoberfest 17" Cuckoo Clock that depicts a rough-hewn chalet style with dancers in the attic that twirl and spin. They also have additional dancers that circle a maypole, beer drinkers at a table who lift their beer steins in toasts, a mill wheel that turns, and, of course, it would be nothing without the cuckoo poking his head out of the top window to sound his call.
This traditional Oktoberfest clock can be yours. It is a perfect accompaniment to when you celebrate Oktoberfest in your own home or cabin, drinking pitchers of beer (perhaps you can get the traditional Marzen lager or Festbier served in Munich!), while eating your sauerbraten, your schnitzel, and your strudel.
Take a look through our vast catalog of hand-crafted, certified Black Forest cuckoo clocks to find the one that is perfect for your own Oktoberfest, and bring that festival right into your home!