Posted by Bavarian Clockworks on 27th Feb 2017
Germany, with its distinct and refined culture, is the producer of many beautiful goods. The term German craftsmanship conjures images of careful hands molding and carving and, somehow, of the the pristine and drastic landscapes that serve as backdrops for the production of many handmade goods. Here we've selected several of our favorite products made in Germany, all of them made by hand and quintessentially German.
The German Violin
In the German region of Bavaria, at the northern foothills of the snowy Alps, rests a town called Mittenwald. A tiny place beneath giant peaks, Mittenwald is known for its brilliant nature, clean air, and handmade violins.
Violin making was first introduced to the village of Mittenwald in the mid 17 th century by the Klotz family, who trained others to carve the sleek instruments from blocks of wood. In 1856, in order to continue Mittenwald's prosperous violin trade, the Bavarian government founded a school for violin making. The school still exists today, and if you were to visit during working hours, you might find it much the same as it was 100 years ago. Outside the large windows, the Alps still tower in all their grandeur. Inside, students and apprentices continue to don aprons and, inhaling the aroma of freshly scraped wood, bend over their instruments, meticulously crafting.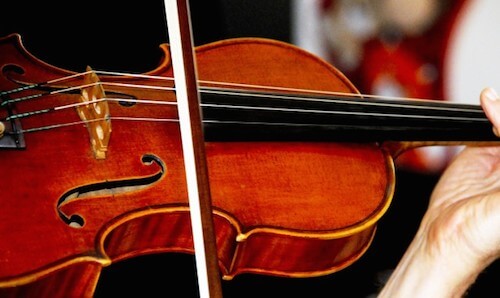 Like all the best German made products, handcrafted German violins are made to look and sound like the violins from hundreds of years ago. In fact, one renowned violinmaker, Stefan-Peter Greiner, has made it his life's work to match the antique sound of a famous, centuries old Stradivarius or Guarnerius. Greiner was trained in Bonn, Germany, where his workshop is located today. His work is the pinnacle of German craftsmanship with his violins being regarded as among the best in the world. But don't expect to get your hands on one anytime soon. Greiner only produces about 15 violins a year and is highly selective with his customers, selling to only the best musicians. Many of his clients are world famous violinists.
So, where can you purchase an authentic, handcrafted German violin? Try Menzel Violins online, or if you are planning a visit to Germany, search for master violinmakers' workshops in the region you're visiting. Perhaps you might even run into a graduate of the Mittenwald School for Violin Making.
Handmade Wooden Toys
The Ore Mountains in the free state of Saxony are mostly known for their mining tradition that dates back to the middle ages. However, a few hundred years ago, when the resources began to dry up and the miners were out of work, a new tradition in toy making blossomed. Today the Ore Mountain town of Seiffen remains at the center of the wooden toy industry, producing a wide variety of wooden figurines, nutcrackers, Christmas pyramids, incense smokers and more.The wooden folk art from the Ore Mountains is a world apart from the mass produced toys we typically see at the store. A reminder of what human hands can create on their own, these toys are a return to centuries past, affordable trinkets for those who value German craftsmanship.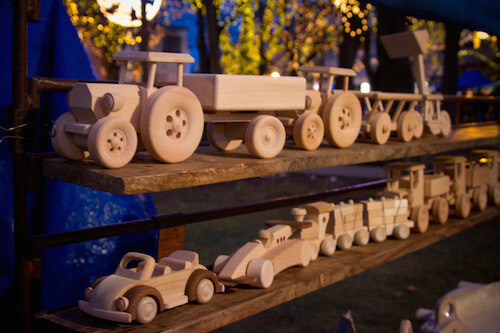 If you'd like to purchase your own authentic German made wooden toys, visit Foster's Imports online, though the best way, if you have the opportunity, is to visit Germany's many Christmas markets. The Ore Mountain region goes all out, celebrating Christmastime with a festival of lights and many markets. There are also famous Christmas markets in nearly every German town, including Nuremberg, Berlin and Munich.
Hand Carved Cuckoo Clocks
From the inner workings to the tiniest of wooden carved details, cuckoo clocks are a product of intricate craftsmanship. The hand carved cuckoo clock dates back to the mid-eighteenth century when, historians say, clockmakers from the Black Forest began crafting clocks with moving birds to announce the hour. The actual inventor of the cuckoo clock is disputed, but it's clear the clock industry in the Black Forest region is responsible for the majority of early cuckoo clocks and for their rising popularity.
Today cuckoo clocks are easily recognizable to folks of all cultures. If you haven't seen a cuckoo clock in real life, you've probably seen one on TV, perhaps in cartoon form. There has also been a recent cuckoo clock resurgence in the design world . Modern cuckoo clocks are being featured as quirky home décor, and are certainly a wonderful addition to a room.
But, if you're searching for that distinguished German craftsmanship, you must look at the hand carved cuckoo clock. An authentic German tradition, these clocks feature Black Forest themes and are true works of art.

If you're in the market for your very own hand carved clock, look no further than Bavarian Clockworks extensive collection . All our clocks adhere to the Black Forest Clock Association's VdS certification standards, which ensures they are authentic Black Forest Cuckoo Clocks .
Beer Steins
Beer Steins, or ornamental beer mugs, are made all over the world, but their most famous origin lies in the Bavarian state of Germany. Often decorated with traditional German scenes, beer steins were originally made from stoneware. Throughout their history they have also been crafted from porcelain, earthenware, pewter, wood and glass. Collected by individuals and museums alike, beer steins are both pieces of artwork and artifacts from the past.
If you're interested in collecting these quintessential german mugs, they are widely available online. Of course, the best and most memorable way to start your collection would be to visit Munich's world famous festival, Oktoberfest, in the fall.