Posted by Bavarian Clockworks on 27th May 2020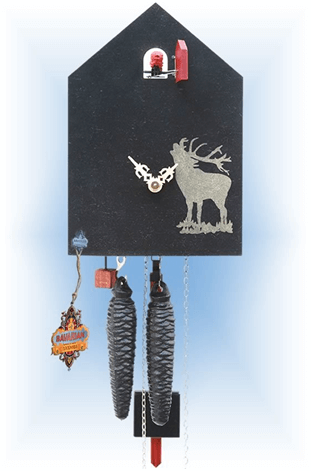 There's no denying the ageless appeal that a true traditional cuckoo clock can have for your home. With their rococo, hand-carved decoration celebrating the finer bucolic muses of the world and their demur, dark wooden images, they can add a breath of the sublime into any setting. Yet there is something about that that makes some interior designs less of a match for them than others.
In the past several decades, there have been shifts in design that have altered the prevailing interior designs in many domestic settings. Where traditionally, colonial, closed cozy settings have been the norm and even preferred, in recent decades more and more iconoclasts have broken the mold by introducing open concept, minimalist, and in some cases even brutalist designs into home interiors such as their living rooms and other gathering places. There's no one better than the other - it really all depends on the tastes of the homeowner. While that can be said, there certainly are elements that work together and those that do not.
While you certainly can elevate any setting with a hand-carved, traditional cuckoo clock, there are some interior designs that are better suited to the character of a modern cuckoo clock than others. For instance, if you find that the interior of your home sports a modern design, rife with minimalist touches, or open concept design, you might be a prime candidate for the graces of a modern cuckoo wall clock .
Part of this match is the versatility of a modern cuckoo wall clock that makes them every ounce as adaptable as many traditional versions and then some. While a traditional clock makes the most of expert craftsmanship and the expertise required to construct a reliable, accurate mechanical operation, modern versions of these classics bring you a twist on the original design.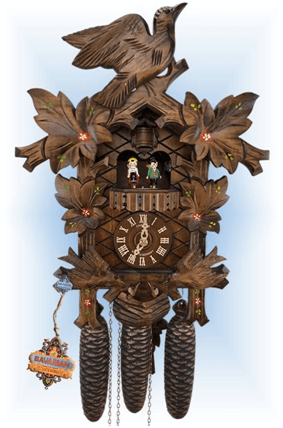 Here's what makes modern versions of cuckoo clocks so versatile. Many of them sport the same motifs and incorporate the same elements and themes of design as their traditional counterparts but in a sort of scaled-down format. In addition, many of them are made with mechanical movements and qualify for VdS certification as authentic cuckoo clocks. That being said, you can even find some modern cuckoo clocks with quartz movements.
Movement and mechanics aside, many modern versions offer the discrete shopper a twist on traditional elements that are usually incorporated into the design of a modern cuckoo clock. To illustrate, take a look at the following juxtaposition between two of these cuckoo clocks you can find on our site.
Our Floral Birds 17" Cuckoo Clock is a beautiful example of a traditional cuckoo clock. It checks every box and then some. Hand-carved in beautifully finished wood, this clock is commanding in its presence. It showcases a bird perched above the branches of a woodland setting and is garlanded by flowers. There are traditional dancers that take the balcony above the clock's face at chime time. It is rustic, charming, delicate and ornate - the epitome of a traditional cuckoo clock. You could work it into a lot of settings, but it certainly would be most at home in a setting where the spirit of nature found itself exalted.
By contrast, consider the following example of a modern cuckoo wall clock, a picture of which you can find at the top of this article. Take a look at our Modern 1 Day Cuckoo House 18" Cuckoo Clock by Rombach & Haas. Almost at once, the explanation can be made without the facility of words, but we'll add some words for clarity. It is angular and boxy - not unattractive, but unmistakable modern in design. Even so, it is a Certified Authentic Black Forest Clock with a mechanical movement. Moreover, its weights take the traditional form of pinecones and the front of the clock is graced with the silhouette of a bugling stag. It is decidedly influenced by the same charming pastoral themes that have colored Black Forest Clocks for hundreds of years, albeit in a slightly different format.
As you can clearly see from the comparison of the top two clocks, the modern version takes a twist on tradition while still capitalizing on the same influences that give cuckoo clocks such notoriety. Modern cuckoo clocks like this one, or any of the other modern cuckoo clocks on our website, could very much be a fitting accent on your interior design.
Of course, you would need to take a look through our catalog to find the design that speaks to your heart and will resonate with the other features and fixtures of your home. To do that, peruse our collection. Most importantly, don't be shy about reaching out to us. As we have said before, the key to our success is the satisfaction of our customers and we would not be here without happy customers. Give us a call at 800-950-6753 if you have any questions about our products, the history of our clocks, or our recommendations for design. We'd be glad to help you settle on your dream clock.